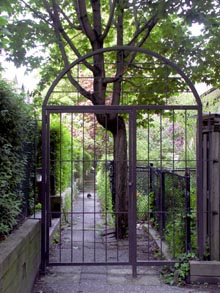 Entrance to the lane between the townhouses
Welcome to the Oak Street Housing Co-operative
Oak Street Housing Co-op, located in downtown Toronto, has provided quality, secure and affordable housing since 1985. The people who live here, or "members," run the co-op. Members have equal voting rights and make all major decisions. All members are expected to participate in the running of the co-op.
The co-op's apartment building contains one, two and three bedroom units. A number of the apartments are wheelchair accessible. There are also three rows of town houses, which include two, three and four bedroom units.
Public transportation, schools, libraries, community centres, shopping and a variety of businesses are in close proximity to the co-op.
Oak Street Co-op is affiliated with the Co-operative Housing Federation of Toronto and with the Co-Operative Housing Federation of Canada. The Co-op receives money from the Canada Mortgage and Housing Corporation (CMHC) to provide rent-geared-to-income assistance to some of its members. The Co-op is governed by an operating agreement with CMHC which is now being administered by the Agency for Co-operative Housing.
Oak Street Co-op employs six staff members to care for its administrative and maintenance needs.